Man Engages Girlfriend While She Was Asleep, See Her Reactions
A man surprised and engaged his girlfriend while she was fast asleep after contemplating on how to propose to her for weeks.
The man identified as Michael Mayorga on Facebook, shared the adorable engagement photo he took while waiting for his girl to wake up.
According to him, Jamilah Williams, who is his girlfriend, is a very difficult person to impress and surprise, so he decided to engage her around 5am while she was deeply asleep while waiting for her to wake up and see the ring on her finger.
Taking to Facebook by 5:00AM on December 9, Michael said he was awake while his girlfriend slept and he's patiently waiting for her to wake up so he can propose.
He wrote,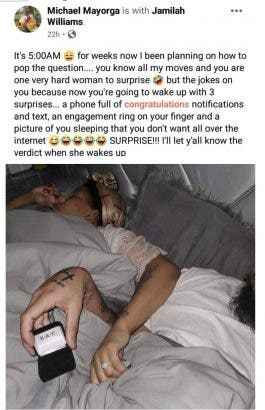 "It's 5:00AM

for weeks now I been planning on how to pop the question…. you know all my moves and you are one very hard woman to surprise but the jokes on you because now you're going to wake up with 3 surprises… a phone full of congratulations notifications and text, an engagement ring on your finger and a picture of you sleeping that you don't want all over the internet
SURPRISE!!! I'll let y'all know the verdict when she wakes up"
Waking up to the surprise, excited Jamilah Williams said "Yes" as she took to Facebook to share her thoughts on the surprise.
She wrote;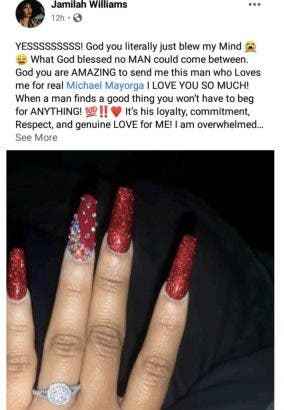 ""YESSSSSSSSS! God you literally just blew my Mind[

What God blessed no MAN could come between. God you are AMAZING to send me this man who Loves me for real Michael Mayorga I LOVE YOU SO MUCH! When a man finds a good thing you won't have to beg for ANYTHING!

It's his loyalty, commitment, Respect, and genuine LOVE for ME! I am overwhelmed with so much love and joy

This is a promise and a prophesy that is being fulfilled, and there's so much more, thank You GOD! God is faithful! Some people will NEVER comprehend but hey WE will praise GOD anyway, because PRAISE WILL CONFUSE THE ENEMY! And to Every woman out there that feel like giving up on love/ marriage you need to believe in God because those who know my testimony is a witness and can see the goodness of God in my life. God is a promise keeper and he will give you the desires of your heart.

I pray that our testimonies individually will help bless other people and give them hope to NEVER GIVE UP ON GOD, God is bigger than all and with him all things are possible. Also Thank you Kay Jewelers for this beautiful gorgeous ring

…Also thank you God for allowing to use me to be a huge blessing to other women to create a group to bring hope to broken sisters in RISE UP QUEEN Thank you God for using Michael and I.

Thank you to everyone for your love and support we are overwhelmed and words can't express how truly blessed we are. This is only the beginning to the lifetime of bessings straight from God. Mrs. Jamilah Mayorga